In an exclusive feature for 2021's Your Business Magazine, we spill our secrets on the long-term monetary savings and gains in efficiency, when IT is handled by the right people.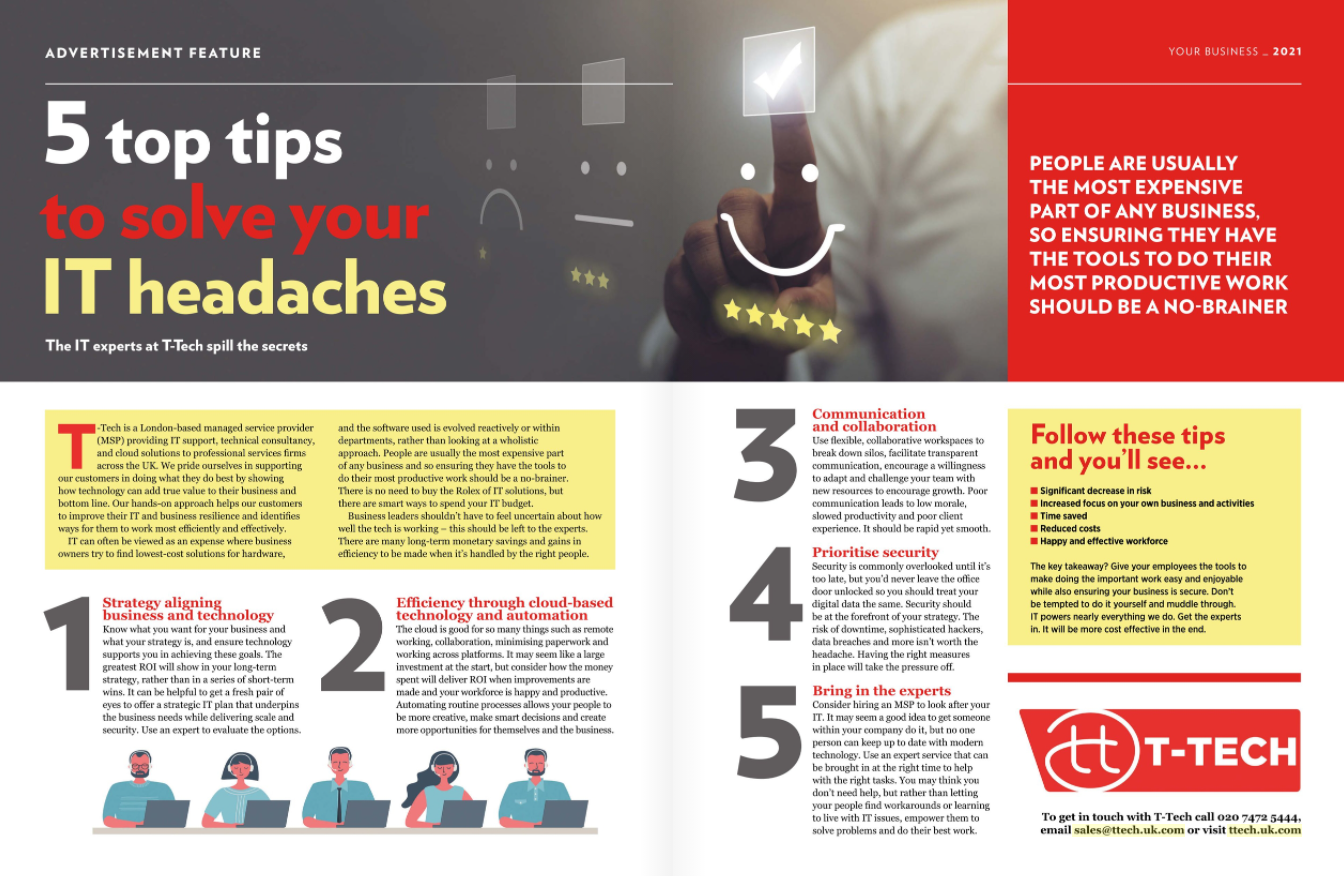 You can read the article below or the original here.
T-Tech is a London-based managed service provider (MSP), providing business and technical consultancy, 24/7 IT support and cloud solutions to professional services firms across the UK. We support our customers in doing what they do best by showing how technology can add value to their business and bottom line. Our hands-on approach helps our customers to improve their IT and business resilience and identifies ways for them to work most efficiently and effectively. IT can often be viewed as an expense where business owners try to find lowest cost solutions for hardware and the software used is evolved reactively or within departments rather than looking at a wholistic approach. People are usually the most expensive part of any business and so ensuring they have the tools to do their most productive work should be a no-brainer. There is no need to buy the Rolex of IT solutions, but there are smart ways to spend your IT budget.
Business leaders shouldn't have to feel uncertain about how well the tech is working – this should be left to the experts. There are many long-term monetary savings and gains in efficiency to be made when it's handled by the right people.
Strategy aligning business and technology: Know what you want for your business and put in the supporting tech to achieve these goals – they go hand in hand. Innovating will take the pressure off. Trial-and-error testing will help you learn what's best for your business, and gain competitive advantage. The greatest ROI will show in your long-term strategy, rather than in a series of short-term wins.
Efficiency through cloud-based technology and automation: The cloud is good for so many things such as remote working, collaboration, minimising paperwork and working across platforms. It may seem like a large investment at the start, but consider how the money spent will deliver ROI when improvements are made and your workforce is happy and productive. Automating routine processes allows your people to be more creative, make smart
decisions and create more opportunities for themselves and the business.


Communication and collaboration: Use flexible and collaborative workspaces to break down silos, facilitate transparent communication, encourage a willingness to adapt and challenge your team with new resources to encourage growth. Poor communication leads to low morale, slowed productivity, and poor client experience. It should be rapid yet smooth.


Prioritise security: Security is commonly overlooked until it's too late, but you'd never leave the office door unlocked so you should treat digital data the same. Security should be at the forefront of your strategy. The risk of downtime, sophisticated hackers, data breaches and more isn't worth the headache. Having the right measures in place will take the pressure off.


Bring in the experts: Consider hiring an MSP to look after your IT. It may seem a good idea to get someone within your company do it, but no one person can keep up to date with modern technology. Use an expert service that can be brought in at the right time to help with the right tasks. You may think you don't need help, but rather than letting your people find workarounds or learning to live with IT issues, empower them to solve problems and do their best work.
Follow these tips and you'll see…
Significant decrease in risk
Increased focus on your own business and activities
Time saved
Reduced costs
Happy and effective workforce
The key takeaway? Give your employees the tools to make doing the important work easy and enjoyable while also ensuring your business is secure. Don't be tempted to do it yourself and muddle through. IT powers nearly everything we do. Get the experts in. It will be more cost effective in the end.