A night at the inaugural European MSP Innovation Awards recognised T-Tech as the winner of the Industry Specialist Award.
Channel Partner Insight held the awards at the Oxo Tower in Central London, bringing together Europe's highest-performing MSPs and MSSPs in the market today, as well as the distributors and vendors which serve them. The goal was to mark the successes of the MSPs and vendors that are at the forefront of the fast-changing managed services industry.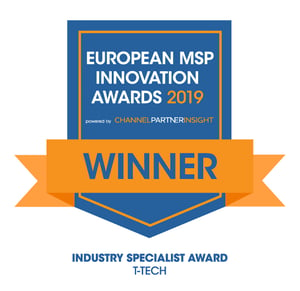 The European MSP Innovation Awards are completely independent and based solely on innovation and achievement in the European channel over the past year.
After being shortlisted a few weeks ago, T-Tech were recognised for actively demonstrating how we have become a partner of choice in a specific vertical market and are the go-to partner for both vendors and end user customers alike.
Working with a large number of the top 100 UK accountancy firms, we have developed deep industry knowledge, insight, and specific industry solutions to support our customers in the best way possible. We strive to ensure practices are given the most efficient tools whilst also respecting each practice has its own unique ways of working. We will continue to assist our customers to help drive their practices forward, and couldn't be more proud to have gained this recognition.
You can see all the winners here and a Q&A from Daniel on the current MSP market here.