In this year's Your Business Magazine, our latest feature reveals what you should be spending your IT budget on in 2022, with 5 key elements to help you reach your business goals.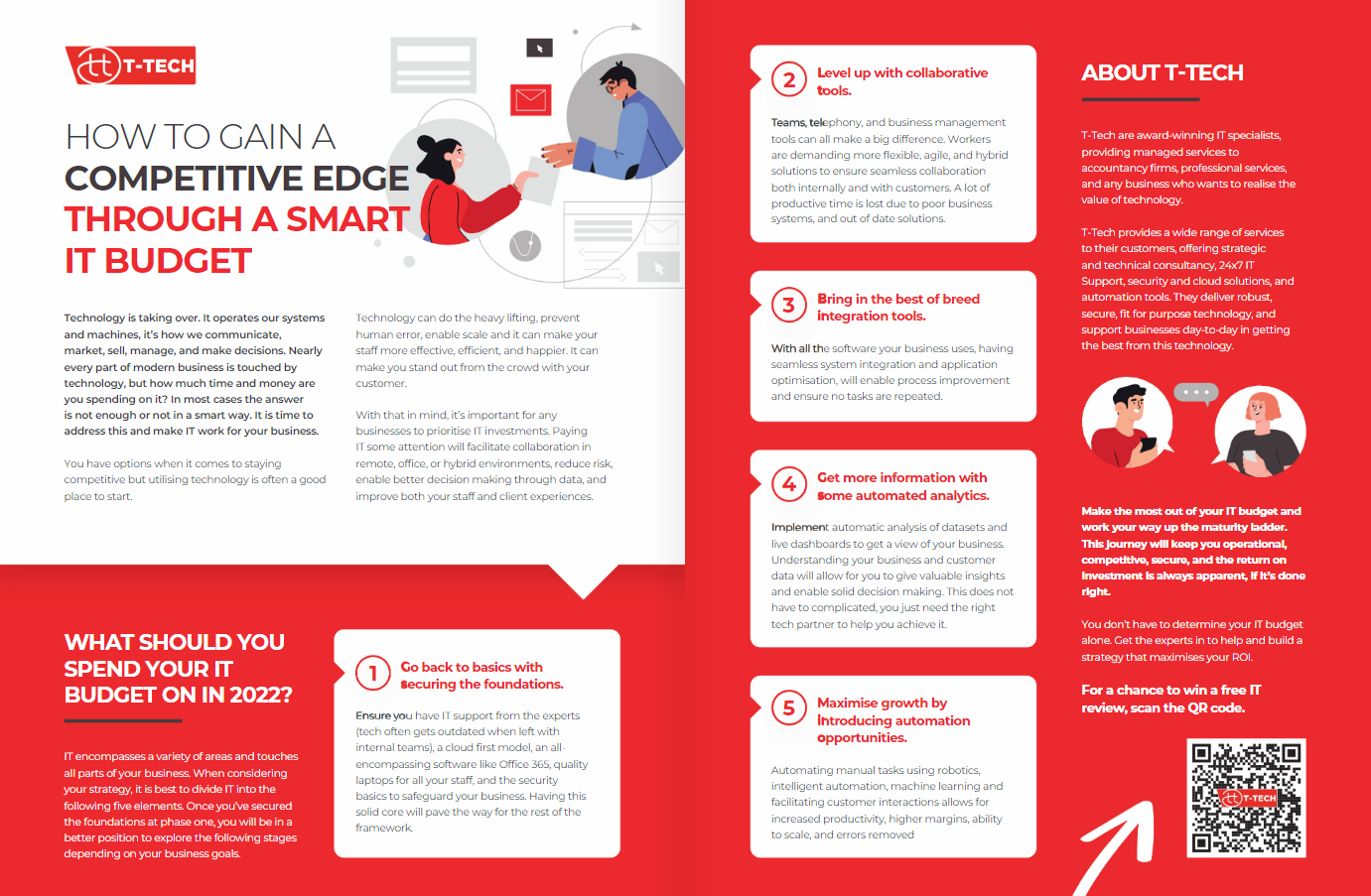 You can read the article below or the original here.
Technology is taking over. It operates our systems and machines, it's how we communicate, market, sell, manage, and make decisions – nearly every part of modern business is touched by technology, but how much time and money are you spending on it? In most cases the answer is not enough or not in a smart way. It is time to address this and make IT work for your business.
You have options when it comes to staying competitive but utilising technology is often a good place to start. Technology can do the heavy lifting, prevent human error, enable scale and it can make our staff more effective, efficient, and happier. It can make you stand out from the crowd with your customer.
With that in mind, it's important for any businesses to prioritise IT investments. Paying IT some attention will facilitate collaboration in remote, office, or hybrid environments, reduce risk, enable better decision making through data and improve both your staff and client experiences.
What should you spend your IT budget on in 2022?
IT encompasses a variety of areas and touches all parts of your business. When considering your strategy, it is best to divide IT into the following five elements. Once you've secured the foundations at phase one, you will be in a better position to explore the following stages depending on your business goals.
Go back to basics with securing the foundations: ensure you have IT support from the experts (tech often gets outdated when left with internal teams), a cloud first model, an all-encompassing software like Office 365, quality laptops for all your staff, and the security basics to safeguard your business. Having this solid core will pave the way for the rest of the framework.
Level up with collaborative tools: Teams, telephony, and a business management tools can all make a big difference. Workers are demanding more flexible, agile, and hybrid solutions to ensure seamless collaboration both internally and with customers. A lot of productive time is lost due to poor business systems, and out of date solutions.
Bring in the best of breed integration tools: with all the software your business uses, having seamless system integration and application optimisation, will enable process improvement and ensure no tasks are repeated.
Get more information with some automated analytics: implement automatic analysis of datasets and live dashboards to get a view of your business. Understanding your business and customer data will allow for you to give valuable insights and enable solid decision making. This does not have to complicated, you just need the right tech partner to help you achieve it.
Maximise growth by introducing automation opportunities: automating manual tasks using robotics, intelligent automation, machine learning and facilitating customer interactions allows for increased productivity, higher margins, ability to scale and errors removed.
Make the most out of your IT budget and work your way up the maturity ladder. This journey will keep you operational, competitive, secure, and the return on investment is always apparent, if it's done right.
You don't have to determine your IT budget alone. Get the experts in to help and build a strategy that maximises your ROI. Talk to us today.